This Home Health Index (HH Index) measures the performance of four publicly traded home health companies, all listed on the NASDAQ — Almost Family (AFAM), LHC Group (LHCG), Gentiva (GTIV) and Amedisys (AMED). This index is updated monthly.  See archived updates below.  If you would like to receive a monthly e-mail of this update, please e-mail us your name and e-mail address to  [email protected].
Quote of the Month:
 "We are continually faced with a series of great opportunities, brilliantly disguised as insoluble problems." John W Gardner

We recently listened to William Dombi, lead attorney with NAHC, speak at the Florida Home Care Conference.  The above quote fits nicely with what he had to say….that there are certainly challenges ahead, but there are also great opportunities in home care.
Following June's nice gain of 4%, the month of July was pretty blah for the Stoneridge Partners Home Health Index (HH Index). While the S&P 500 gained a respectable 1.3%, our HH Index was up a trifling 0.12%.
In spite of all the issues making headlines i.e. the continuing European economic difficulties, and the stubbornly high unemployment rate, the stock market in general is doing quite well, with the S&P 500 up close to 10% for the year.
Our HH Index is doing even better, now sitting at 14.67, up 24.6% for the year.  The high was set in September, 2008 at 41.75.
The only stock in the HH Index that is down this year is Gentiva.  LHC Group leads, now up 39%.
Here are the results for the month of July and YTD:
Stock Price
Change in %
6/30/12
7/31/12
Month
YTD   
Almost Family
22.34
22.01
-1.48%
+32.75%
Amedisys
12.45
12.19
-2.09%
+11.73%
Gentiva
6.93
6.66
-3.90%
-1.33%
LHC Group
16.96
17.89
+5.48%
+39.44%
Home Health Index
14.67
14.69
+0.12%
+24.81%
S&P 500
1362.16
1379.32
+1.26%
+9.68%
We also note that on August 1  Addus HealthCare's stock sat at 4.43, down 9.8% for the month but still up 24% for the year.  They are a public company (NASDAQ:ADUS), but not in our HH Index.
This first graph shows the HH Index compared to the actual prices of the individual companies that make up the chart through July, 2012.
Note that by hovering your pointer over a spot, you will get the price at that point.
For the past decade, it's been quite a ride
Stoneridge Partners Home Health Index vs. S&P 500 Index
This second chart compares the percentage change of the HH index to the percentage change in the S&P 500 index through July, 2012.
Stoneridge Partners Home Health Index 12 Months Trailing
This third graph is a 12 month trailing chart of the HH Index compared to the actual prices of the individual companies that make up the chart, through July, 2012.
HOT OFF THE PRESS: 
Last month's "Hot off the Press" was the Supreme Court's surprise decision on the Affordable "Obama" Health Care bill, which, in spite of the headlines,  created somewhat of a ho hum with the HH Index.
This month it was the issuance by CMS of the proposed rule regarding 2013 payment rates. The proposal includes the 2013 Market Basket Index (MBI) update of 2.5%, the required 1% under the Affordable Care Act, and the previous set 1.32% case mix creep adjustment.
CMS estimated that the net impact will be a $20 million overall reduction in payments in 2013, or approximately 0.1%. While the base rates would increase, the impact of the wage index changes lowers total expenditures.
This seemed to be a smaller than anticipated decrease, so we thought it would be good news, but again, our HH Index gave the news another big  ho-hum ….barely moving.
The Partnership for Quality Home health Care is a  consortium of home health care providers which includes the large public companies.  It was established in 2010 to work in partnership with government officials to ensure access to quality home healthcare services for all Americans.
They seem to be making progress in Washington, especially in regard to fraud and abuse. "The Partnership couldn't be more aligned with the government to put controls in place that will be effective in impacting fraud and abuse".  Check out their web site for updated information:  http://www.homehealth4america.org/about-us
What interests us is the relationship between NAHC and this Partnership.  We were present when an organizational meeting took place.  At that time NAHC was both a supporter and a member of the partnership, and we now note that they are no longer listed as a member.
We can't help but wonder….is NAHC still a member and if not, was there a conflict that caused them to leave?
We would be interested in your comments.  At the end of this column we have added a section for comments.  These can be sent anonymously.  The return email address can be left blank.  We are interested in what you have to say.
Earnings Announcements:  In the next couple of weeks the public companies will be making their earnings' releases.  Conference calls are scheduled as follows….information can be found on their web sites:
Amedisys – August 7
LHC Group – August 7
Almost Family – August 8
Gentiva and Addus have already released:
Gentiva's 2nd quarter revenue was 427.7 million down 5% from last year's 2nd quarter.  When factoring in closed and sold locations, their revenue is up slightly.
Addus' 2nd quarter revenue was 70.3 million, up 3% over last year's 2nd quarter.
We will have a complete wrap-up of these announcements in next month's column.
MERGER & ACQUISITION ACTIVITY
For the first time in several months there were a couple of announcements from the public companies regarding acquisitions.  We believe that this trend in acquisition activity will continue.  Growth among these public home care companies continues to be slow.  Acquisitions very well may become the driving force toward future growth.
Announcements in the news:
Gentiva Health Services, Inc. (NASDAQ: GTIV), announced the acquisition of Advocate Hospice, located in Danville, Indiana.
LHC Group Inc. (Nasdaq:LHCG), continues their investment into hospital based home health agencies.  It appears to be a strategy that is working well for them. This month they acquired 100 percent of the assets of Huguley Home Health Agency from Huguley Memorial Medical Center in Burleson, Texas.
Pro Care Home Health, a certified home health firm based in Hartford, KY, has been acquired by Christian Care Communities.
UMass Memorial Health Care announced that they have reached a preliminary agreement to sell its home health and hospice service to VNA Care Network & Hospice of Worcester. Terms were not disclosed.
EBITDA Multiples:  Multiples of EBITDA from earnings results through the 1st quarter 2012 with stock prices as of July 31, 2012.
| | |
| --- | --- |
| Company | Multiple of EBITDA |
| Almost Family | 5.3 |
| Amedisys | 2.3 |
| Gentiva | 1.1 |
A Favorite Cartoon: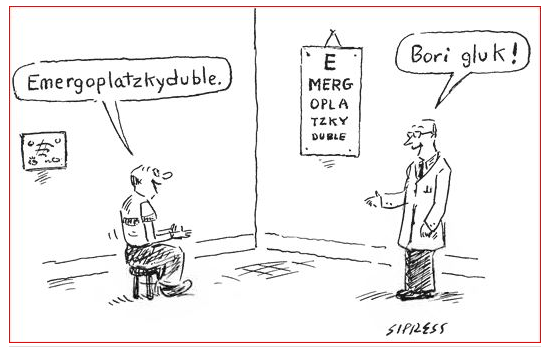 A repeat of a Favorite Cartoon: "To tax and to please, no more than to love and be wise, is not given to man." Edmund Burke
And for additional musings on the state of homecare and what's going on at Stoneridge Partners, visit our blog, which is updated regularly: stoneridgepartners.com/blog 
Links to Google Finance: Almost Family | Amedisys | Gentiva | LHC Group